When Disaster Strikes: Latter-day Saints Talk about Preparedness by Marvin K. Gardner, Assistant Editor, Ensign Magazine
"Probably, no one ever feels completely ready for disasters. They usually hit suddenly, and then it's too late to prepare. But Latter-day Saints are finding that the preparedness encouraged by the Church—temporal, emotional, and spiritual—helps them feel more secure and cope more successfully with the trauma."
---
Are We Prepared? by Thomas S. Monson
"Are we prepared for the emergencies in our lives? Are our skills perfected? Do we live providently? Do we have our reserve supply on hand? Are we obedient to the commandments of God? Are we responsive to the teachings of prophets? Are we prepared to give of our substance to the poor, the needy? Are we square with the Lord?
"We live in turbulent times. Often the future is unknown; therefore, it behooves us to prepare for uncertainties. When the time for decision arrives, the time for preparation is past."
---
12 Principles of Self-Reliance
The Lord has declared, "It is my purpose to provide for my saints" (D&C 104:15). This revelation is a promise that the Lord will provide temporal blessings and open the door of self-reliance. He has also declared that "it must needs be done in [His] way" (D&C 104:16). To receive the blessings of self-reliance, we must accept and live the principles of self-reliance, which include the following:
Exercise Faith in Jesus Christ (D&C 104:15)

Use Time Wisely (Alma 34:32)

Be Obedient (D&C 130:20–21)

Manage Money (D&C 104:78)

Work: Take Responsibility (D&C 42:42; 2 Nephi 2:16, 26)

Solve Problems (Ether 2:18–19, 23; 3:1, 4)

Become One, Work Together (Moses 7:18; D&C 104:15–17)

Communicate: Petition and Listen (D&C 8:2)

Persevere (Hebrews 12:1; D&C 58:4)

Show Integrity (Mosiah 4:28; Job 27:5; Articles of Faith 1:13)

Seek Learning and Education (D&C 88:118–119)

Stay On Task, Receive Ordinances (D&C 84:20; D&C 136:4; 1 Nephi 18:2–3)
These principles are taught more fully in the booklet My Foundation: Principles, Skills, Habits. We invite you to diligently study and apply them and teach them to your family. As you do, your life will be blessed. You will learn how to act on your path toward greater self-reliance.
---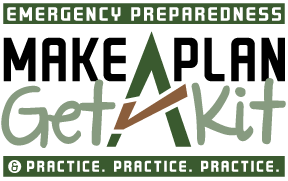 Being Prepared is Completely Up to YOU!